PRE-ORDER FORM WITH LIMITED EDITION CARRY BAG
Due to the overwhelming interest, we are offering a select number of clients the opportunity to pre-order their HYPASTART CDS and collect their free limited edition carry bag!
Payment not required until late August
Order now for September delivery and receive your free limited edition carry bag, valued at $199!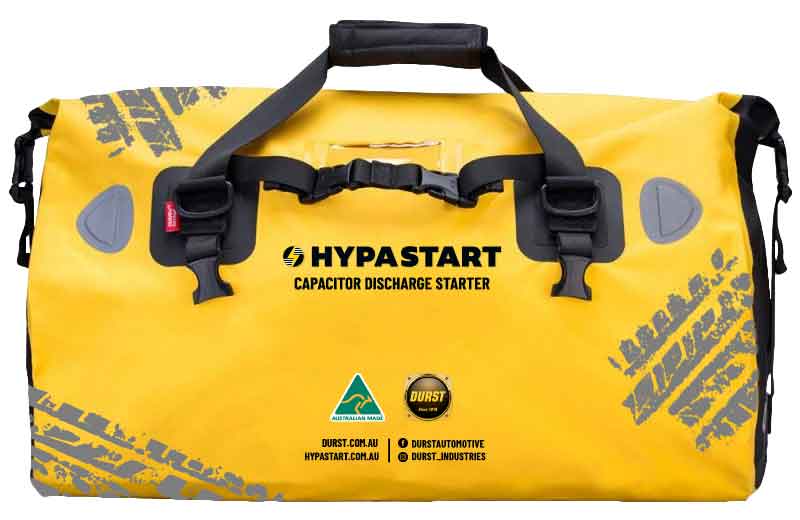 Friday afternoon work drinks? Saturday BBQ with beers? Fishing trip with the boys? Your free Durst Hypastart Dry Bag has you covered — whatever the occasion!
Prefer to print out your order form? Download here;
Durst Industries are pleased to announce the launch of their Capacitor Discharge Starter, the HYPASTART. Designed, developed and manufactured by Durst Industries, the Hypastart series are Australian made and built with a durable, fully aluminium frame providing a versatile lightweight unit, compliant with current WHS regulations.
General Manager of Durst Industries, Alf De La Harpe says "We have spent over 12 months developing this product and the feedback from our extensive field trials has been exceptional. We've basically engineered an Anti-Spike and Anti-Spark, GFE protected unit to safely operate without the fear of gassing, fire or explosion."
The Hypastart stores electrical energy in banks of super-capacitors, controlled by a custom-made mechanical cam operated switch and custom circuitry enclosed in the Hypastart Control.
The Hypastart can be used to jump start an engine even if your unit is flat or low powered.
You can also pre-order your HYPASTART by calling us now
Learn more about the HYPASTART here